I've  just finished the musical score for Marco Tullio Giordana's PA', based on a selected choice of Pier Paolo Pasolini's prose and poetry, as poignant and prophetic as ever.
The show was produced by the Teatro Stabile del Veneto,  it debuted in November at the Teatro Goldoni in Venice and is currently touring Italy (Milan, Verona and Padova), with a reprise which will also take it to Rome next year.
The reviews have been great so far, which makes me happy because working on it was such a good experience.
***********************
Ho appena terminato la colonna sonora per PA' di Marco Tullio Giordana, spettacolo basato su una scelta selezionata della prosa e della poesia di Pier Paolo Pasolini, rilevanti e profetiche come sempre.
Lo spettacolo è stato prodotto dal Teatro Stabile del Veneto, ha debuttato a novembre al Teatro Goldoni di Venezia ed è attualmente in tournée in Italia (Milano, Verona e Padova), con una ripresa che lo porterà anche a Roma il prossimo anno.
Finora le recensioni sono state ottime, il che mi rende felice perché lavorare per questo progetto è stata un'esperienza così positiva.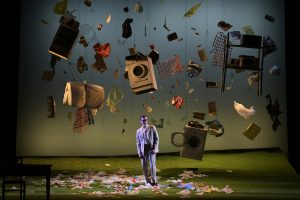 Photography by Serena Pea